Melsmon Background
Melsmon Placenta
Melsmon Pharmaceutical was established in 1956. The Melsmon Cell Revitalization Extract manufacturing process adheres to the requirements of the Ministry of Health & Welfare, Japan and adopts the entire GMP production technique. In addition, it also complies with the World Health Organization's stringent regulations.
Melsmon provides a stimulating effect on cell renewal of the epidermis on the entire body, by promoting the formation of new blood vessels, and nerves, thus leading to healthy looking skin. Skin will appear young and vibrant.
The History and Origin Of Placenta
According to the record from an ancient Chinese masterpiece, the placenta was dried and made into powder or buried under the soil, in order to obtain its decomposed substance for nourishment or as anti-ageing formula. In his quest for immortality, Shi Huang Ti had discovered the placenta as his ultimate secret formula.
In the search for immortality, many preparations used the umbilical cord as their main ingredients.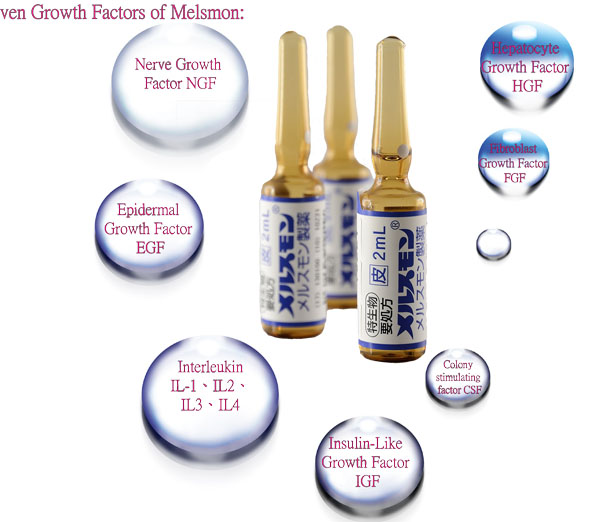 Valuable Nutrients found in the Natural Placenta
Amino acid, Protein, Enzymes ,Sugar, Nucleic acid elements, Minerals, Vitamins, Fats lipase, Polysaccarides, SA Amino Acid Various growth elements
Seven Growth Factors of Melsmon:
Nerve Growth Factor NGF, Hepatocyte Growth Factor HGF, Fibroblast Growth Factor FGF, Insulin-Like Growth Factor IGF, Colony stimulating factor CSF, Epidermal Growth Factor EGF, Interleukin IL-1、IL2、IL3、IL4
The following effects are clinically proven:
Regulates the voluntary action.
Physical and psychic fatigue. Melsmon helps to improve a general lack of vitality, concentration, eyesight and mental weakness.
Epidermal problems, such as wrinkles, de-colorization, pigmentation, eye-bags & dull skin tone.
After effects of illnesses. Melsmon helps to replenish nutrients required by your body.
After surgery. Melsmon promotes wound healing and reduces recovery time.
Menopausal Syndrome. Melsmon is proven to be highly effective for women in their mid 40s, approaching menopause. Melsmon reduces the pain and change associated with menopause.
The safety assurance for Melsmon product
*Melsmon is an approved pharmaceutical product in Japan and holds an internationally recognized Certificate of Pharmaceutical Product.
* Melsmon has Good Manufacturing Process (GMP) Certificate from the Japanese Medical Safety Control Department.
* The product is derived from advanced bio-technology; hence it is capable of preserving the most valuable elements in placenta.
* The product has been in use for more than 52 years without any identifiable side effect.
* The product is being supplied to many hospitals in Japan for treatment and health care purpose.
* The product has passed the non-infectious and non-toxic test.
* The product can be used in conjunction with other drugs or health supplements.